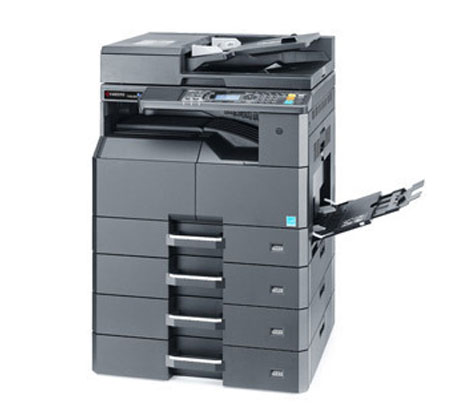 There's no denying that printers are needed everywhere- from kindergarten to high school students and from offices to homes. If you are also looking for the right laser printer for small office use, this is the right photocopier supplier. Here's a list of the best printers for business use in India- ranging from single function to all-in-ones, monochrome to colour, inkjet to the laser.
The list is based on the product characteristics given on the official website. However, you should ideally double-check the information with a photocopier supplier before making a purchase. This is crucial since the new variants with improved technologies are released regularly.
Best Printers for Office
Here are your top five picks if you seek the best printer for business use.
Brother Dcp-L2520d Multifunction Monochrome Laser Printer
There's no denying that this printer from Brother is a fine choice. More and more people are choosing this device as it promises long-lasting service. The machine is gaining rapid popularity due to its multipurpose. Simply put, it is well-known for its printing convenience and operational efficiency.
You can use it for various workplace and homework tasks, as well as for bulk printing daily. The controls are simple, and the panel is well-known for its usability. It has a 250-sheet paper capacity, automated duplex printing, and a print speed of up to 30 pages per minute.
Canon PIXMA G2020 NV All-In-One Ink Tank Colour Printer
Ask any expert, and they will tell you that this Canon ink tank printer has revolutionised the market. This is since it comes preinstalled with ink containers, a user manual, and other needs. To put it simply, the product design contributes to easy ink injecting. Furthermore, the multifunction nature makes it ideal for home and office usage.
If you are thinking of choosing this one, you must essentially keep in mind that the printer comes with a USB connector. Therefore you will have to keep your computer on for regular printing. Then again, you must also note that wireless printing is not available with this one. But the low cost of printing convinces people to purchase the all-in-one printer.
HP Laserjet Pro M126nw Multi-Function Direct Wireless Network Laser Printer
If you are looking for a competent wireless printer, this HP Laserjet Pro printer can suit your need efficiently. With this one, you get wireless compatibility and a decent photocopier and scanner- thereby making it one of the best printers for both small and large offices.
To put it simply, this is one of the most budget-friendly wireless laser printers. While its restriction to only printing in B/W makes it somehow limited, its fast printing speed and outstanding print quality make it a tough competitor for all business printers.
Epson Ecotank L3110 All-In-One Ink Tank Printer
If you are a first-timer, you must realise that Epson is recognised for producing high-quality, low-cost printers. Simply put, this all-in-one Ink Tank printer does absolute justice to this sterling reputation. The printer promises lightning-fast printing speed, as well as its low print cost.
As per the experts, this is one of the best printers for small office use. This is essential because it can print in bulk and handle more than 300 pages monthly. In addition, the ink tank system is superior to cartridges, and you may save a lot of money on ink.
Canon Imageclass MF235 All-In-One Laser Printer
The detailed market study will show that this Canon laser printer is highly touted for its breakneck printing speed. To put it simply, this versatile printer is ideal for both home and business use. It can simultaneously serve you with its copying, scanning, and printing functionalities. There's no denying that the printer is a flexible device- that is also less expensive than its competitors.
Bottom Line
CopyLine UAE has been designing and manufacturing high-performance printers for the last decade. They deliver the latest printers thanks to an experienced technical team, customer-cantered manufacturing techniques, and committed technical support.
CopyLine UAE is well known for adapting the best international techniques to the challenging Indian environment. This is thanks to their relationship with prominent international players. As a result, CopyLine UAE provides a diverse choice of high-quality consumables compatible with a wide range of PCs, laptops, and impact and non-impact laser printers.