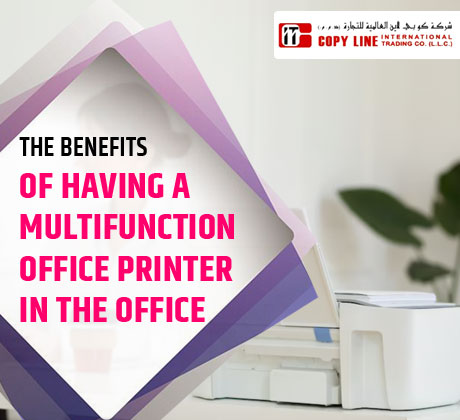 You can achieve superior efficiency with a multifunction Canon printer at the office. They are prized for having a variety of printing capabilities. Most offices today necessitate printers for their everyday chores. In light of this, you should make it a point to get high-functioning Canon printers. Back then, you would have many items under office equipment. However, a busy office multifunction printer can take care of all these. Convenience is essential in today's world. Therefore, you must ideally consider getting a photocopier machine for sale. This article essentially covers the thorough advantages of a multifunction office printer.
Multifunctional Office Printer- Explained
A multifunctional office printer can be of extreme benefit to every workplace today. This is because it is essentially one device that integrates printing, scanning, copying, and faxing. As a result, you will be managing a single machine that houses your various office tools. As a result, you will see a rise in efficiency while also optimising workplace productivity, which is a huge benefit.
A photocopier machine for sale typically provides all the essential document solutions in a small and user-friendly package for modern offices. You no longer have to worry about black-and-white document printing as the sole concern. Instead, you can consolidate all your printing requirements into one machine.
According to experts, a multifunction Canon printer promises several benefits for the workplace. The top advantages that are sometimes forgotten but significantly improve office productivity.
It Simplifies Document Management
Thanks to a multifunctional printer, you can expect a rapid improvement in document management at the workplace. This is essential since it consolidates an organisation's printing infrastructure in just one location- physically and digitally. It typically lets you print, scan, copy, and frequently fax from the same machine.
Moreover, the latest models allow users to access the printer using Wi-Fi or mobile devices. Note that mobile printing is rising with the rise of mobile devices in the workplace. Users can therefore create and print a document using a single interface.
You will see a rise in workplace productivity with a multifunctional printer available for support. However, this convergence offers various chances to streamline an organisation's document management procedures. Keeping visibility, security, and compliance by making the multifunction printer the centre through which all papers pass is beneficial.
They Facilitate Control of the Print Environment
You can control the printing environment if every printing operation happens on one network. You can access control and track effortlessly only if the whole process is based on one device, much like document management.
You could aim to reduce printing costs and boost security by managing the print environment. A multifunctional printer typically eliminates unauthorised printing. Similarly, you will discover that a single device in a secure location offers more security than several devices in different offices.
They Limit the Users to Studying Only One Interface
Most multifunctional printers are straightforward to use. This promotes efficiency as you may need to get familiar with one interface ideally. You may ideally learn a direct interface to do your printing tasks using intuitive colour touchscreens and essential navigation tools.
You will achieve the same outcome across devices by using integration software. It will essentially standardise the interface. Employees typically spend less time studying these interfaces and more on the operational procedures when they only need to learn one interface.
The Best Multifunction Printer to Buy for Your Office
Determining the best multifunction printer is exceptionally challenging. This is because many different models are available online- each promising dynamic and unique feature. Ideally, you may choose the most appropriate device that effectively transforms your print environment into a productivity powerhouse.
The best multifunction printers for offices typically perform demanding yet standard printing requirements. They combine simplicity and productivity to offer all the functionality a modern workplace needs. They are important hubs in the productivity hive that is an office, thanks to advanced capabilities like network connectivity.
Endnote
Copy Line UAE is a leader in printing solutions and is aware of the various unique problems that multiple organisations and sectors may encounter. To discuss the objectives, you would like to achieve with your new office printer, contact us immediately.